Nearly SPRING stringS Festival
March 8-10, 2019 - Missoula MT
From the traditional to the extraordinary.


An annual celebration of nearly all-things-stringed!
---
String musicians of all ages and abilities are welcome to participate in a weekend that includes workshops on relevant performance topics and practices, high-level master classes, adjudication from professional teaching artists, and a final community performance and celebration.
Adjudication is open to both solo and ensembles
. All ages, levels, and styles welcome! Throughout the weekend, participants will be exposed
to high-level instruction in both traditional and contemporary music and
gain performance experience while receiving guidance, constructive feedback, and access to informative workshops that focus on creating independent, confident, and well-rounded musicians.
---
2019 Spring Strings Team
Master Teaching Artists & Adjudicators
Sally Jerde

• Concertmaster, Glacier Symphony

• Founder, Meadowlark Homeschool Orchestra

• Violinist, Meadowlark Music

•

BIOGRAPHY

Jessica Catron

• Founder, Lead Teaching Artist for Grow Music Missoula

•

BIOGRAPHY

Lisa Collins

• Lecturer, String Pedagogy - University of New Mexico

• Cellist, New Mexico Philharmonic

• Suzuki Certified Educator

•

BIOGRAPHY

Amelia Thornton

•

Founder, Lead Teaching Artist for Artwork Strings

•

BIOGRAPHY
---
Festival Workshops
Improvisation 101
Led by Naomi Siegel
1:30-3pm - Saturday, March 9th
Longstaff House (601 Longstaff Blvd)
$10 with registration, $15 drop-in

Improvisation allows you to play things without having them written down or even having ever heard the sounds you are playing before. Improvisation allows musicians to play with sound - you get to try new ideas and new techniques. Playfulness helps musicians get into a free space inside themselves, where it is easy to connect to others and to the world in a more spiritual way. Improvisation is about seeking connection. If you listen, copy, and build on what others are doing -- magic happens! It's as if you are all one being, sharing each others thoughts and ideas in real time.
Improvisation is a meditation. It is about being in a space where the music goes on and on, time slows, and you never want to stop. It fills you up to the brim and further. It amplifies your feelings to a place that is almost beyond endurance.

​Open to all levels - this is a class for everyone! We will explore several fun and simple exercises to unleash our creativity - bring your instrument!
---
Contemporary Performance Practices
Led by Jessica Catron
10:30-11:25am - Sunday, March 10th
Longstaff House (601 Longstaff Blvd)
$5 with registration, $8 drop-in

Being a skilled performer goes far beyond playing the correct notes or reading your lines! From overcoming anxiety to gaining poise in your stage presence, this workshop will focus on some powerful practices, exercises, and tactics that professional performers have used to seriously UP their stage game. Beneficial to anyone who experiences stage fright or social anxiety, come prepared to "step into the light."



---
Many Musical Paths
Led by Amelia Thornton
11:30-12:25pm - Sunday, March 10th
​Longstaff House (601 Longstaff Blvd)
$5 with registration, $8 drop-in

Beginners and advanced musicians alike focus on becoming well-rounded, active members of their community through the development of talent, business skills, and entrepreneurial concepts. We will explore the endless possibilities of careers in all genres and facets of the musical arts! This clinic will teach participants how to set sights on a music-based career, how to avoid becoming the proverbial "starving artist", and to identify the key building blocks needed to get on your chosen path to a successful life in the arts.
---
---
To begin your registration process, please download the packet below. This packet is 5 pages and includes a welcome letter (with detailed information and fees), a registration form, and adjudication forms. These forms are to be filled out and mailed/emailed back by the postmark deadline.

If you have trouble downloading the packet, please email us at the link below.
​
​All registration materials
must
be postmarked by
February 1, 2019
.
Thank you for your interest!
---
Additional Questions?
Powered by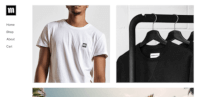 Create your own unique website with customizable templates.